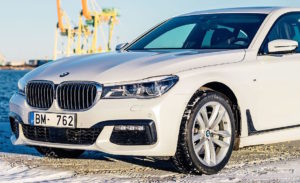 Look what I fished out of my spam folder this morning. This is a variation on the usual lottery scam, and more enjoyable than most. But really, a BMW 760Li? While the 6.6-litre twin-turbo Rolls Royce engine would be zippy on Phoenix-area highways, we certainly don't need the cold-weather package here. Anyway, the M4 two-door coupé is more my style.
To be serious: When you get spam like this, simply delete the message. Don't reply, don't click any links, including unsubscribe links.
From: "Mrs Rachael Adams"
Subject: BMW LOTTERY DEPARTMENT

Date: July 21, 2016 at 1:51:03 PM MST
BMW LOTTERY DEPARTMENT
5070 WILSHIRE BLVD
LOS ANGELES. CA 90036
UNITED STATES OF AMERICA.

NOTE: If you received this message in your SPAM/JUNK folder, that is because of the restrictions implemented by your Internet Service Provider, we (BMW) urge you to treat it genuinely.

Dear Winner,

This is to inform you that you have been selected for a prize of a brand new 2015/2016 Model BMW 7 Series Car and a Cheque of $1,500,000.00 USD from the international balloting programs held on the 2nd section in the UNITED STATE OF AMERICA.

Description of prize vehicle; Model: 760Li Color (exterior): Metallic Silver Mileage: 5 Transmission: Automatic 6 Speed

Options: Cold weather package, premium package, fold down rear seats w/ski bag, am fm stereo with single in dash compact disc player.

The selection process was carried out through random selection in our computerized email selection system (ESS) from a database of over 250,000 email addresses drawn from all the continents of the world which you were selected.

The BMW Lottery is approved by the British Gaming Board and also licensed by the International Association of Gaming Regulators (IAGR).

To begin the processing of your prize you are to contact our fiduciary claims department for more information as regards procedures to claim your prize.

Fiduciary Agent: Mr.David Johnson
Contact Email:[redacted]

Contact him by providing him with your secret pin code Number BMW:255175HGDY03/23.As the subject of your email for swift response

You are also advised to provide him with the under listed information as soon as possible:

1. Name In Full :
2. Residential Address :
3. Nationality :
4. Age :
5. Sex
6. Occupation :
7. Direct Phone :
8. Present Country :
9. Email address :
10. pin code Number BMW:255175HGDY03/23

Note that you have to send email to Mr.David johnson .You are to provide him with the above listed details as soon as possible so he can begin with the processing of your prize winnings.

Mrs.Rachael Adams.
———————
THE DIRECTOR PROMOTIONS
BMW LOTTERY DEPARTMENT
UNITED STATES OF AMERICA
https://alanzeichick.com/wp-content/uploads/2016_BMW_7-Series_G11_sedan_front_view-1.jpg
566
929
Alan Zeichick
https://alanzeichick.com/wp-content/uploads/alan-zeichick-logo.png
Alan Zeichick
2016-07-26 05:29:46
2016-07-26 05:29:46
A free BMW 7-Series car – and a check for $1.5 million!