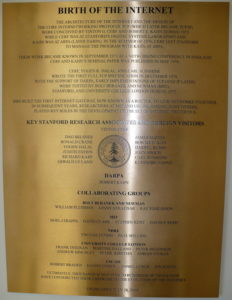 In the "you learn something every day" department: Discovered today that there's a plaque at Stanford honoring the birth of the Internet. The plaque was dedicated on July 28, 2005, and is in the Gates Computer Science Building.
You can read all about the plaque, and see it more clearly, on J. Noel Chiappa's website. His name is on the plaque.
Here's what the plaque says. Must check it out during my next trip to Palo Alto.
---
BIRTH OF THE INTERNET
THE ARCHITECTURE OF THE INTERNET AND THE DESIGN OF THE CORE NETWORKING PROTOCOL TCP (WHICH LATER BECAME TCP/IP) WERE CONCEIVED BY VINTON G. CERF AND ROBERT E. KAHN DURING 1973 WHILE CERF WAS AT STANFORD'S DIGITAL SYSTEMS LABORATORY AND KAHN WAS AT ARPA (LATER DARPA). IN THE SUMMER OF 1976, CERF LEFT STANFORD TO MANAGE THE PROGRAM WITH KAHN AT ARPA.
THEIR WORK BECAME KNOWN IN SEPTEMBER 1973 AT A NETWORKING CONFERENCE IN ENGLAND. CERF AND KAHN'S SEMINAL PAPER WAS PUBLISHED IN MAY 1974.
CERF, YOGEN K. DALAL, AND CARL SUNSHINE WROTE THE FIRST FULL TCP SPECIFICATION IN DECEMBER 1974. WITH THE SUPPORT OF DARPA, EARLY IMPLEMENTATIONS OF TCP (AND IP LATER) WERE TESTED BY BOLT BERANEK AND NEWMAN (BBN), STANFORD, AND UNIVERSITY COLLEGE LONDON DURING 1975.
BBN BUILT THE FIRST INTERNET GATEWAY, NOW KNOWN AS A ROUTER, TO LINK NETWORKS TOGETHER. IN SUBSEQUENT YEARS, RESEARCHERS AT MIT AND USC-ISI, AMONG MANY OTHERS, PLAYED KEY ROLES IN THE DEVELOPMENT OF THE SET OF INTERNET PROTOCOLS.
KEY STANFORD RESEARCH ASSOCIATES AND FOREIGN VISITORS
VINTON CERF
DAG BELSNES
RONALD CRANE
BOB METCALFE
YOGEN DALAL
JUDITH ESTRIN
RICHARD KARP
GERARD LE LANN
JAMES MATHIS
DARRYL RUBIN
JOHN SHOCH
CARL SUNSHINE
KUNINOBU TANNO
DARPA
COLLABORATING GROUPS
BOLT BERANEK AND NEWMAN
WILLIAM PLUMMER
GINNY STRAZISAR
RAY TOMLINSON
MIT
NOEL CHIAPPA
DAVID CLARK
STEPHEN KENT
DAVID P. REED
NDRE
YNGVAR LUNDH
PAAL SPILLING
UNIVERSITY COLLEGE LONDON
FRANK DEIGNAN
MARTINE GALLAND
PETER HIGGINSON
ANDREW HINCHLEY
PETER KIRSTEIN
ADRIAN STOKES
USC-ISI
ROBERT BRADEN
DANNY COHEN
DANIEL LYNCH
JON POSTEL
ULTIMATELY, THOUSANDS IF NOT TENS TO HUNDREDS OF THOUSANDS HAVE CONTRIBUTED THEIR EXPERTISE TO THE EVOLUTION OF THE INTERNET.
DEDICATED JULY 28, 2005
https://alanzeichick.com/wp-content/uploads/BirthInternetL-1.jpg
775
600
Alan Zeichick
https://alanzeichick.com/wp-content/uploads/alan-zeichick-logo.png
Alan Zeichick
2016-07-12 15:35:06
2016-07-12 15:35:06
The Birth of the Internet Plaque at Stanford University