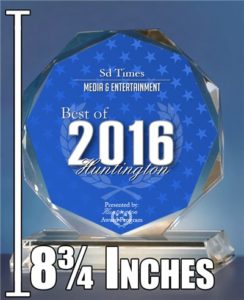 Scammers give local businesses a faux award and then try to make money by selling certificates, trophies, and so-on.
Going through my spam filter today, I received FIVE of this exact same message praising SD Times for winning the "2016 Best of Huntington" award. The emails came from five different email addresses and domains, but the links all went to the same domain. (SD Times is published by BZ Media; I'm the "Z" of BZ Media.)
The messages read:
Sd Times has been selected for the 2016 Best of Huntington Awards for Media & Entertainment.

For details and more information please view our website: [link redacted]
If you click the link (which is not included above), you are given the choice to buy lots of things, including a plaque for $149.99 or a crystal award for $199.99. Such a deal: You can buy both for $229.99, a $349.98 value!! This is probably a lucrative scam, since the cost of sending emails is approximately $0; even a very low response rate could yield a lot of profits.
The site's FAQ says,
Do I have to pay for an award to be a winner?

No, you do not have to pay for an award to be a winner. Award winners are not chosen based on purchases, however it is your option, to have us send you one of the 2016 Awards that have been designed for display at your place of business.

Shouldn't my award be free?

No, most business organizations charge their members annual dues and with that money sponsor an annual award program. The Best of Huntington Award Program does not charge membership dues and as an award recipient, there is no membership requirement. We simply ask each award recipient to pay for the cost of their awards.
There is also a link to a free press release. Aren't you excited on our behalf?
Press Release

FOR IMMEDIATE RELEASE

Sd Times Receives 2016 Best of Huntington Award

Huntington Award Program Honors the Achievement

HUNTINGTON July 2, 2016 — Sd Times has been selected for the 2016 Best of Huntington Award in the Media & Entertainment category by the Huntington Award Program.

Each year, the Huntington Award Program identifies companies that we believe have achieved exceptional marketing success in their local community and business category. These are local companies that enhance the positive image of small business through service to their customers and our community. These exceptional companies help make the Huntington area a great place to live, work and play.

Various sources of information were gathered and analyzed to choose the winners in each category. The 2016 Huntington Award Program focuses on quality, not quantity. Winners are determined based on the information gathered both internally by the Huntington Award Program and data provided by third parties.

About Huntington Award Program

The Huntington Award Program is an annual awards program honoring the achievements and accomplishments of local businesses throughout the Huntington area. Recognition is given to those companies that have shown the ability to use their best practices and implemented programs to generate competitive advantages and long-term value.

The Huntington Award Program was established to recognize the best of local businesses in our community. Our organization works exclusively with local business owners, trade groups, professional associations and other business advertising and marketing groups. Our mission is to recognize the small business community's contributions to the U.S. economy.

SOURCE: Huntington Award Program
https://alanzeichick.com/wp-content/uploads/faux-award.jpg
491
400
Alan Zeichick
https://alanzeichick.com/wp-content/uploads/alan-zeichick-logo.png
Alan Zeichick
2016-07-09 14:21:30
2016-07-09 14:52:47
It's a fake award for SD Times – thank you, scammers!