Lloyds of London tallies the billion-dollar cost of extreme cyberattacks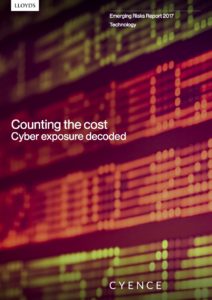 A major global cyberattack could cost US$53 billion of economic losses. That's on the scale of a catastrophic disaster like 2012's Hurricane Sandy.
Lloyds of London, the famous insurance company, partnered with Cyence, a risk analysis firm specializing in cybersecurity. The result is a fascinating report, "Counting the Cost: Cyber Exposure Decoded." This partnership makes sense: Lloyds must understand the risk before deciding whether to underwrite a venture — and when it comes to cybersecurity, this is an emerging science. Traditional actuarial methods used to calculate the risk of a cargo ship falling prey to pirates, or an office block to a devastating flood, simply don't apply.
Lloyds says that in 2016, cyberattacks cost businesses as much as $450 billion. While insurers can help organizations manage that risk, the risk is increasing. The report points to those risks covering "everything from individual breaches caused by malicious insiders and hackers, to wider losses such as breaches of retail point-of-sale devices, ransomware attacks such as BitLocker, WannaCry and distributed denial-of-service attacks such as Mirai."
The worry? Despite writing $1.35 billion in cyberinsurance in 2016, "insurers' understanding of cyber liability and risk aggregation is an evolving process as experience and knowledge of cyber-attacks grows. Insureds' use of the internet is also changing, causing cyber-risk accumulation to change rapidly over time in a way that other perils do not."
And that is why the lack of time-tested actuarial tables can cause disaster, says Lloyds. "Traditional insurance risk modelling relies on authoritative information sources such as national or industry data, but there are no equivalent sources for cyber-risk and the data for modelling accumulations must be collected at scale from the internet. This makes data collection, and the regular update of it, key components of building a better understanding of the evolving risk."
Where the Risk Is Growing
The report points to six significant trends that are causing increased risk of an expensive attack – and therefore, increased liability:
Volume of contributors: The number of people developing software has grown significantly over the past three decades; each contributor could potentially add vulnerability to the system unintentionally through human error.
Volume of software: In addition to the growing number of people amending code, the amount of it in existence is increasing. More code means the potential for more errors and therefore greater vulnerability.
Open source software: The open-source movement has led to many innovative initiatives. However, many open-source libraries are uploaded online and while it is often assumed they have been reviewed in terms of their functionality and security, this is not always the case. Any errors in the primary code could then be copied unwittingly into subsequent iterations.
Old software: The longer software is out in the market, the more time malicious actors have to find and exploit vulnerabilities. Many individuals and companies run obsolete software that has more secure alternatives.
Multi-layered software: New software is typically built on top of prior software code. This makes software testing and correction very difficult and resource intensive.
"Generated" software: Code can be produced through automated processes that can be modified for malicious intent.
Based on those points, and other factors, Lloyds and Cyence have come up with two primary scenarios that could lead to widespread, and costly, damages. The first – a successful hack of a major cloud service provider, which hosts websites, applications, and data for many companies. The second — a mass vulnerability attack that affects many client systems. One could argue that some of the recent ransomware attacks fit into that scenario.
Huge Liability Costs
The "Counting the Cost" report makes for some depressing reading. Here are three of the key findings, quoted verbatim. Read the 56-page report to dig deeply into the scenarios, and the damages.
The direct economic impacts of cyber events lead to a wide range of potential economic losses. For the cloud service disruption scenario in the report, these losses range from US$4.6 billion for a large event to US$53.1 billion for an extreme event; in the mass software vulnerability scenario, the losses range from US$9.7 billion for a large event to US$28.7 billion for an extreme event.
Economic losses could be much lower or higher than the average in the scenarios because of the uncertainty around cyber aggregation. For example, while average losses in the cloud service disruption scenario are US$53 billion for an extreme event, they could be as high as US$121.4 billion or as low as US$15.6 billion, depending on factors such as the different organisations involved and how long the cloud-service disruption lasts for.
Cyber-attacks have the potential to trigger billions of dollars of insured losses. For example, in the cloud- services scenario insured losses range from US$620 million for a large loss to US$8.1 billion for an extreme loss. For the mass software vulnerability scenario, the insured losses range from US$762 million (large loss) to US$2.1 billion (extreme loss).
Read the 56-page report to dig deeply into the scenarios, and the damages. You may not sleep well afterwards.
https://alanzeichick.com/wp-content/uploads/lloyds.jpg
1169
826
Alan Zeichick
https://alanzeichick.com/wp-content/uploads/alan-zeichick-logo.png
Alan Zeichick
2017-07-18 18:55:11
2018-05-18 06:37:36
Lloyds of London tallies the billion-dollar cost of extreme cyberattacks