A phone that takes pictures? Smartphone cameras turn 20 years old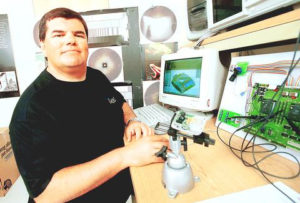 Twenty years ago, my friend Philippe Kahn introduced the first camera-phone. You may know Philippe as the founder of Borland, and as an entrepreneur who has started many companies, and who has accomplished many things. He's also a sailor, jazz musician, and, well, a fun guy to hang out with.
About camera phones: At first, I was a skeptic. Twenty years ago I was still shooting film, and then made the transition to digital SLR platforms. Today, I shoot with big Canon DSLRs for birding and general stuff, Leica digital rangefinders when want to be artistic, and with pocket-sized digital cameras when I travel. Yet most of my pictures, especially those posted to social media, come from the built-in camera in my smartphone.
Philippe has blogged about this special anniversary – which also marks the birth of his daughter Sophie. To excerpt from his post, The Creation of the Camera-Phone and Instant-Picture-Mail:
Twenty years ago on June 11th 1997, I shared instantly the first camera-phone photo of the birth of my daughter Sophie. Today she is a university student and over 2 trillion photos will be instantly shared this year alone. Every smartphone is a camera-phone. Here is how it all happened in 1997, when the web was only 4 years old and cellular phones were analog with ultra limited wireless bandwidth.

First step 1996/1997: Building the server service infrastructure: For a whole year before June 1997 I had been working on a web/notification system that was capable of uploading a picture and text annotations securely and reliably and sending link-backs through email notifications to a stored list on a server and allowing list members to comment.

Remember it was 1996/97, the web was very young and nothing like this existed. The server architecture that I had designed and deployed is in general the blueprint for all social media today: Store once, broadcast notifications and let people link back on demand and comment. That's how Instagram, Twitter, Facebook, LinkedIn and many others are function. In 1997 this architecture was key to scalability because bandwidth was limited and it was prohibitive, for example, to send the same picture to 500 friends. Today the same architecture is essential because while there is bandwidth, we are working with millions of views and potential viral phenomena. Therefore the same smart "frugal architecture" makes sense. I called this "Instant-Picture-Mail" at the time.
He adds:
What about other claims of inventions: Many companies put photo-sensors in phones or wireless modules in cameras, including Kodak, Polaroid, Motorola. None of them understood that the success of the camera-phone is all about instantly sharing pictures with the cloud-based Instant-Picture-Mail software/server/service-infrastructure. In fact, it's even amusing to think that none of these projects was interesting enough that anyone has kept shared pictures. You'd think that if you'd created something new and exciting like the camera-phone you'd share a picture or two or at least keep some!
Read more about the fascinating story here — he goes into a lot of technical detail. Thank you, Philippe, for your amazing invention!
https://alanzeichick.com/wp-content/uploads/philippe-kahn-integrating-CMOS-cellular-phone-modules-1997.jpg
325
480
Alan Zeichick
https://alanzeichick.com/wp-content/uploads/alan-zeichick-logo.png
Alan Zeichick
2017-06-10 10:15:27
2017-06-10 10:15:27
A phone that takes pictures? Smartphone cameras turn 20 years old