Hacking can kill — and cyberattacks can lead to warfare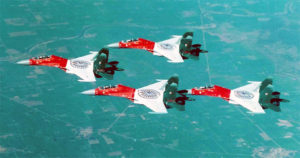 Hacking can kill. To take the most obvious example, take ransomware. One might argue that hackers demanding about US$300 (£230) to unlock some files is simply petty crime – unless those files were crucial to hospitals. If doctors can't access medical files because of the WannaCry ransomware, or must postpone surgery, people can die.
It gets worse: Two Indian Air Force pilots are dead, possibly because of a cyberattack on their Sukhoi 30 fighter jet. According to the Economic Times of India,
Squadron leader D Pankaj and Flight Lieutenant S Achudev, the pilots of the Su-30 aircraft, had sustained fatal injuries when the aircraft crashed approximately 60 km from Tezpur Airbase on May 23. A court of Inquiry has already been ordered to investigate the cause of the accident.

According to defence spokesperson S Ghosh, analysis of the Flight Data Recorder of the aircraft and certain other articles recovered from the crash site revealed that the pilots could not initiate ejection before crash. The wreckage of the aircraft was located on May 26.
What does that have to do with hackers? Well, the aircraft was flying close to India's border with China, and according to reports, the Sukhoi's two pilots were possibly victims of cyberwarfare. Says the Indian Defense News,
Analysts based in the vicinity of New York and St Petersburg warn that the loss, days ago, of an advanced and mechanically certified as safe, Sukhoi 30 fighter aircraft, close to the border with China may be the result of "cyber-interference with the onboard computers" in the cockpit. This may explain why even the pilots may have found it difficult to activate safety ejection mechanisms, once it became obvious that the aircraft was in serious trouble, as such mechanisms too could have been crippled by computer malfunctions induced from an outside source.
Trouble in the Middle East
The political situation going on this week in Qatar might lead to a shooting war. In mid-May, stories were published on the Qatar News Agency that outraged its Arab neighbors. According to CNN,
The Qatari government has said a May 23 news report on its Qatar News Agency attributed false remarks to the nation's ruler that appeared friendly to Iran and Israel and questioned whether President Donald Trump would last in office.
Soon thereafter, three Arab countries cut off ties and boycotted the country, which borders Saudi Arabia on the Persian Gulf. It's now believed that those stories were "fake news" planted by hackers. Were they state-sponsored agents? It's too soon to tell. However, given how quickly Bahrain, Saudi Arabia, and the United Arab Emirates reacted — and given how hard Saudi Arabia is fighting in Yemen — this is troubling. Could keystrokes from hackers lead to the drumbeat of war?
As a possibly related follow-up, Qatar-based Al-Jazeera reported on June 8 it was under cyberattack:
The websites and digital platforms of Al Jazeera Media Network are undergoing systematic and continual hacking attempts.

These attempts are gaining intensity and taking various forms. However, the platforms have not been compromised.
In the First World War, the feared new weapon was the unstoppable main battle tank. In the Second World War, it was the powerful aircraft carrier. During the Cold War, we worried about ICBMs raining destruction from the skies. Today… it's cyberwarfare that keeps us awake at night. Sadly, we can't hide under our desks in the event of a malware attack.
https://alanzeichick.com/wp-content/uploads/su30.jpg
315
600
Alan Zeichick
https://alanzeichick.com/wp-content/uploads/alan-zeichick-logo.png
Alan Zeichick
2017-06-09 16:59:31
2018-05-18 07:05:57
Hacking can kill — and cyberattacks can lead to warfare