My article on digital watermarks cited in a U.S. government paper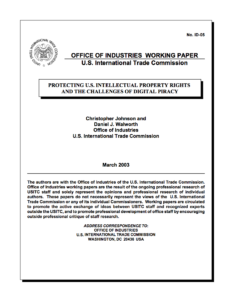 March 2003: The U.S. International Trade Commission released a 32-page paper called, "Protecting U.S. Intellectual Property Rights and the Challenge of Digital Piracy." The authors, Christopher Johnson and Daniel J. Walworth, cited an article I wrote for the Red Herring in 1999.
Here's the abstract of the ITC's paper:
ABSTRACT: According to U.S. industry and government officials, intellectual property rights (IPR) infringement has reached critical levels in the United States as well as abroad. The speed and ease with which the duplication of products protected by IPR can occur has created an urgent need for industries and governments alike to address the protection of IPR in order to keep markets open to trade in the affected goods. Copyrighted products such as software, movies, music and video recordings, and other media products have been particularly affected by inadequate IPR protection. New tools, such as writable compact discs (CDs) and, of course, the Internet have made duplication not only effortless and low-cost, but anonymous as well. This paper discusses the merits of IPR protection and its importance to the U.S. economy. It then provides background on various technical, legal, and trade policy methods that have been employed to control the infringement of IPR domestically and internationally. This is followed by an analysis of current and future challenges facing U.S. industry with regard to IPR protection, particularly the challenges presented by the Internet and digital piracy.
Here's where they cited yours truly:
To improve upon the basic encryption strategy, several methods have evolved that fall under the classification of "watermarks" and "digital fingerprints" (also known as steganography). Watermarks have been considered extensively by record labels in order to protect their content.44 However, some argue that "watermarking" is better suited to tracking content than it is to protecting against reproduction. This technology is based on a set of rules embedded in the content itself that define the conditions under which one can legally access the data. For example, a digital music file can be manipulated to have a secret pattern of noise, undetectable to the ear, but recorded such that different versions of the file distributed along different channels can be uniquely identified.45 Unlike encryption, which scrambles a file unless someone has a 'key' to unlock the process, watermarking does not intrinsically prevent use of a file. Instead it requires a player–a DVD machine or MP3 player, for example–to have instructions built in that can read watermarks and accept only correctly marked files."46
Reference 45 goes to
Alan Zeichick, "Digital Watermarks Explained," Red Herring, Dec. 1999
Another paper that referenced that Red Herring article is "Information Technology and the Increasing Efficacy of Non-Legal Sanctions in Financing Transactions." It was written by Ronald J. Mann of the the University of Michigan Law School.
Sadly, my digital watermarks article is no longer available online.
https://alanzeichick.com/wp-content/uploads/digital-fingerprints.png
1100
850
Alan Zeichick
https://alanzeichick.com/wp-content/uploads/alan-zeichick-logo.png
Alan Zeichick
2017-05-25 13:39:36
2017-05-25 13:39:36
My article on digital watermarks cited in a U.S. government paper