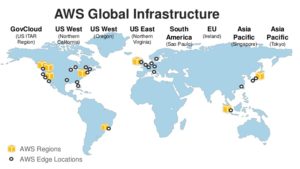 You keep reading the same three names over and over again. Amazon Web Services. Google Cloud Platform. Microsoft Windows Azure. For the past several years, that's been the top tier, with a wide gap between them and everyone else. Well, there's a fourth player, the IBM cloud, based on their SoftLayer acquisition. But still, it's AWS in the lead when it comes to Infrastructure-as-a-Service (IaaS) and Platform-as-a-Service (PaaS), with many estimates showing about a 37-40% market share in early 2017. In second place, Azure, at around 28-31%. Third, place, Google at around 16-18%. Fourth place, IBM SoftLayer, at 3-5%.
Add that all up, and you get the big four at between 84% and 94%. That doesn't leave much room for everyone else, including companies like Rackspace, and all the cloud initiatives launched by major computer companies like Alibaba, Dell and HP, and all the telcos around the world.
it's clear that when it comes to the public cloud, the sort of cloud that telcos want to monetize, and enterprises want to use for hybrid clouds or full migrations, there are very few choices. You can go with the big winner, which is Amazon. You can look to Azure (which is appealing, of course, to Microsoft shops) or Google. And then you can look at everyone else, including IBM SoftLayer, Rackspace, and, well, everyone else.
Read more in my blog post for Zonic News, "For Cloud IaaS and PaaS Providers, There Are the Big Three – and That's How It's Going to Stay (for Now)." That post also covers the international angle when all the big cloud providers are in the U.S. — and that's a real issue.
http://alanzeichick.com/wp-content/uploads/overview-of-amazon-web-services-9-728.jpg
410
728
Alan Zeichick
http://alanzeichick.com/wp-content/uploads/alan-zeichick-logo.png
Alan Zeichick
2017-02-23 13:50:30
2017-02-23 13:52:47
The three big cloud providers keep getting bigger!