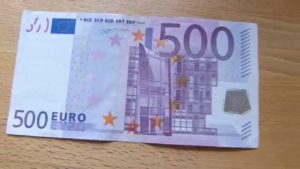 This just in, via Facebook Messenger, from an account called "Clemond Fernand." It's a scam. Don't reply to messages like this – block the account instead.
Bonjour,

Je réponds a tous ceux qui sont dans la mélasse comme moi niveau dossier de surendettement, voilà vous allez voir des propositions allé chantes sur des prêts entre particulier a taux de 2 à 4 %, sur une période de 15 ans,entre 2000 et 1.000.000 euros.

Je vous le dit attention très grosses arnaques, bien entendue ils vous dore la pilule en disant qu'ils peuvent vous aidez a tout projet immo, projet personnel, remboursement bancaire, etc etc; j'ai pris contact avec tous ses vendeurs de rêves et tous ont une seule demande après avoir expliquer le pourquoi de votre demande, c'est de payer des frais d'assurance ou frais de dossier.

Ils vous demandent: pièce d'identité, reconnaissance de dette, bulletin de salaire, relevé d'identité bancaire.

Attention quand vous demandez un tableau d'amortissement sous forme excel, il vous disent pas la peine c'est suivant ce qui est stipulé sur la reconnaissance de dettes.

Si ils vous demandent des frais, tirez vous vite se sont tous des voleurs; car en France il y a une nomenclature qui dit : " Aucun versement que se soit ne peut être effectué pour un ou plusieurs prêt entre particulier."

J'ai demandé a mon banquier se que cela voulait dire pour être moins con, il m'a dit: " que tous les frais qu'ils vous sont demandé sont directement prélevé sur la somme prêtée."

Donc ne tombez jamais dans le panneau. email hidden; JavaScript is required
M. Clemond claims to be someone important. "Former Gouverneur de la Banque centrale européenne at Le roi Babilone, grand maître de la spirictuelité." That means, "Former Governor of the European Central Bank at King Babilone, Grand Master of Spirituality." Riiiight.
I think Google Translate had some trouble with the text.
Hello,

I answer to all those who are in the molasses like me level of overindebtedness, here you will see proposals gone sing on loans between particular rate of 2 to 4%, over a period of 15 years, between 2000 and 1.000. 000 euros.

I tell you very serious scams, of course you will love the pill saying that they can help you any real estate project, personal project, bank reimbursement, etc etc; I made contact with all his dream sellers and all have one request after explaining the why of your request is to pay insurance fees or fees.

They ask you: ID, debt acknowledgment, pay slip, bank statement.

Be careful when you ask for an amortization table in excel form, it do not bother you, it is according to what is stipulated on the recognition of debts.

If they charge you a fee, shoot you quickly are all thieves; because in France there is a nomenclature that says: "No payment whatsoever can be made for one or more loan between individual."

I asked my banker what it meant to be less stupid, he told me: "that all the fees they are asked of you are directly levied on the sum lent."

So never fall in the sign. email hidden; JavaScript is required
https://alanzeichick.com/wp-content/uploads/500euro.jpg
720
1280
Alan Zeichick
http://alanzeichick.com/wp-content/uploads/alan-zeichick-logo.png
Alan Zeichick
2018-02-02 08:44:18
2018-02-02 08:45:54
Being scammed in French – mais non!