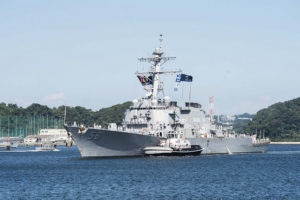 The more advanced the military technology, the greater the opportunities for intentional or unintentional failure in a cyberwar. As Scotty says in Star Trek III: The Search for Spock, "The more they overthink the plumbing, the easier it is to stop up the drain."
In the case of a couple of recent accidents involving the U.S. Navy, the plumbing might actually be the computer systems that control navigation. In mid-August, the destroyer U.S.S. John S. McCain rammed into an oil tanker near Singapore. A month or so earlier, a container ship hit the nearly identical U.S.S. Fitzgerald off Japan. Why didn't those hugely sophisticated ships see the much-larger merchant vessels, and move out of the way?
There has been speculation, and only speculation, that both ships might have been victims of cyber foul play, perhaps as a test of offensive capabilities by a hostile state actor. The U.S. Navy has not given a high rating to that possibility, and let's admit, the odds are against it.
Even so, the military hasn't dismissed the idea, writes Bill Gertz in the Washington Free Beacon:
On the possibility that China may have triggered the collision, Chinese military writings indicate there are plans to use cyber attacks to "weaken, sabotage, or destroy enemy computer network systems or to degrade their operating effectiveness." The Chinese military intends to use electronic, cyber, and military influence operations for attacks against military computer systems and networks, and for jamming American precision-guided munitions and the GPS satellites that guide them, according to one Chinese military report.
The datac enters of those ships are hardened and well protected. Still, given the sophistication of today's warfare, what if systems are hacked?
Imagine what would happen if, say, foreign powers were able to break into drones or cruise missiles. This might cause them to crash prematurely, self-destruct, or hit a friendly target, or perhaps even "land" and become captured. What about disruptions to fighter aircraft, such as jets or helicopters? Radar systems? Gear carried by troops?
To learn more about these unsettling ideas, read my article, "Can Warships Like the U.S.S. John S. McCain Be Hacked?"
http://alanzeichick.com/wp-content/uploads/mccain.jpg
426
640
Alan Zeichick
http://alanzeichick.com/wp-content/uploads/alan-zeichick-logo.png
Alan Zeichick
2017-08-25 17:15:18
2017-08-26 17:19:32
Cyberwar: Can ships like the USS John S. McCain be hacked?