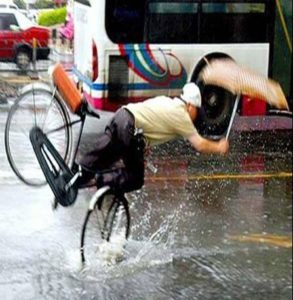 Every company should have formal processes for implementing cybersecurity. That includes evaluating systems, describing activities, testing those policies, and authorizing action. After all, in this area, businesses can't afford to wing it, thinking, "if something happens, we'll figure out what to do." In many cases, without the proper technology, a breach may not be discovered for months or years – or ever. At least not until the lawsuits begin.
Indeed, running without cybersecurity accreditations is like riding a bicycle in a rainstorm. Without a helmet. In heavy traffic. At night. A disaster is bound to happen sooner or later: That's especially true when businesses are facing off against professional hackers. And when they are stumbled across as juicy victims by script-kiddies who can launch a thousand variations of Ransomware-as-a-Service with a single keystroke.
Yet, according to the British Chambers of Commerce (BCC), small and very small businesses are extremely deficient in terms of having cybersecurity plans. According to the BCC, in the U.K. only 10% of one-person businesses and 15% of those with 1-4 employees have any formal cybersecurity accreditations. Contrast that with businesses with more than 100 employees: 47% with more than 100 employees) have formal plans.
While a CEO may want to focus on his/her primary business, in reality, it's irresponsible to neglect cybersecurity planning. Indeed, it's also not good for long-term business success. According to the BCC study, 21% of businesses believe the threat of cyber-crime is preventing their company from growing. And of the businesses that do have cybersecurity accreditations, half (49%) believe it gives their business a competitive advantage over rival companies, and a third (33%) consider it important in creating a more secure environment when trading with other businesses.
Read more about this in my latest for Zonic News, "One In Five Businesses Were Successfully Cyber-Attacked Last Year — Here's Why."
http://alanzeichick.com/wp-content/uploads/bicyclerain.jpg
457
447
Alan Zeichick
http://alanzeichick.com/wp-content/uploads/alan-zeichick-logo.png
Alan Zeichick
2017-04-18 17:21:00
2017-04-18 17:21:00
No security plan? It's like riding a bicycle in traffic in the rain without a helmet