Canadians love digital payments, cash not so much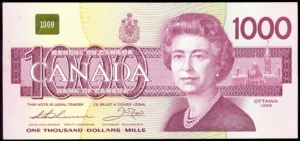 Like consumers and merchants all around the world, Canadians have embraced digital payments instead of cash and checks. The growth rate is staggering, as evidenced by statistics provided by Interac, which processes many of those payments.
Digital payments are used for payments from an individual or business to another individual or business. For example, a person might buy artwork from a gallery in Montréal, using a mobile wallet or an app that person's bank provides. Interac provides behind-the-scenes technology that facilitates these payments with a high degree of security.
Person-to-person (P2P) payments are one of the fastest-growing segments of business for Interac. Its P2P service, called Interac e-Transfer, saw 371.4 million transactions in 2018, representing a 54% increase over 2017. The amount of money involved is significant, too: CAN$132.8 billion in 2018, a 45% increase over 2017.
Interac overall processes about 16 million transactions per day, the bulk of which are debit card transactions made at the point of sale. That growth has back-office technology implications—the rapid increase in online transactions is prompting Interac to move its core software to the cloud. A shift to cloud-based services ensures it can handle future growth and will strengthen the always-on resiliency of its platform.
Why the fast growth in Interac e-Transfer use? It starts with more consumer and business acceptance of digital payments in place of cash and checks, owing in part to their convenience, reliability, and security. With that interest, more financial institutions have signed up as partners, so they can offer customers the ability to transfer money and make digital payments right from their bank accounts.
Also, more businesses are relying on digital payments for business-to-business transfers. Approximately one in six Interac e-Transfer transactions are conducted by a business, which lets them eliminate reliance on checks and allows invoices to be settled in real time.
Read more about this in my story in Forbes, "Canada Embraces Digital Payments, With Some Behind-The-Scenes Help."
https://alanzeichick.com/wp-content/uploads/loony.jpg
753
1600
Alan Zeichick
https://alanzeichick.com/wp-content/uploads/alan-zeichick-logo.png
Alan Zeichick
2020-01-17 10:10:00
2020-02-23 10:13:07
Canadians love digital payments, cash not so much