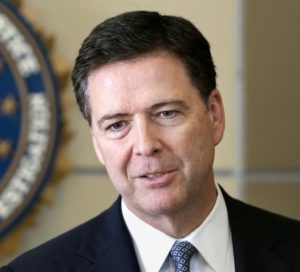 This is a generally unremarkable spam message except for the obvious. James Comey was fired as the Director of the FBI on May 9. That makes it unlikely that Mr. Comey can deliver the promised $1.2 million. Bummer.
The missing spaces are just the way they were in the message. I do like the comment about things being in the spam folder. Let's blame the Internet Service Provider!!
If you get messages like this, delete them – don't reply.
From: "JAMES B.COMEY"
Subject: Urgent Reply Needed For Your Payment
Reply-To: email hidden; JavaScript is required

FEDERAL BUREAU OF INVESTIGATIONS (F.B.I)
HEADQUARTERS WASHINGTON DC. JAMES B.COMEY
BUILDING 935 PENNSYLVANIA AVENUE,
NW WASHINGTON, D.C. 20535-0001
E-Mail: email hidden; JavaScript is required

Our Ref: FBI /0N8/CONTRACT NO.856.

Motto: Fidelity, Bravery, Integrity

Greetings My Dear

This is James B.Comey,the Director of the Federal Bureau of Investigation(FBI), I am here in Africa as an FBI/ United States delegate that have been delegated to investigate fraudsters who are in the business of swindling Foreigners that has transactions in Africa.

Please be informed that during our investigations we found out that there is a total amount of $1.2 Million that has been assigned in your name as the beneficiary but those fraudsters are busy swindling you without any hope of receiving your fund,these are the works of the people who needed to extort money from you in the name of this transfer,We have to inform you that we have arrested some men in respect of this delayed over due fund. I have a very limited time to stay in Africa here so I advise you urgently respond to this message .

These criminals will be caught unaware and I don't want them to know this new development to avoid jeopardizing my investigation,you need to conceal anything that has to do with this exercise to enable me get all the necessary information required.

I shall be expecting your swift response as soon as you receive this email and notify me of any message or phone call you receive from those people for me to investigate on it before you make any contact with them.

In case if found this message in spam folder, it could be due to your Internet Service Provider, ISP. So kindly move to your inbox before replying. 

Regards.

JAMES B.COMEY
FEDERAL BUREAU OF INVESTIGATIONS (F.B.I)
https://alanzeichick.com/wp-content/uploads/comey.jpg
500
552
Alan Zeichick
https://alanzeichick.com/wp-content/uploads/alan-zeichick-logo.png
Alan Zeichick
2017-06-26 14:44:44
2017-06-26 14:46:04
Sorry, spammers, but James Comey is no longer FBI Director