Snapchat IPO goes big — let's hope it doesn't go poof!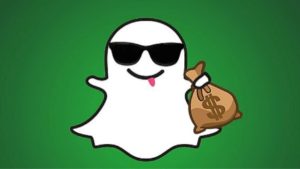 What's the Snapchat appeal? For now, it's a red-hot initial public offering and the promise of more public offerings to come, after a period of slow tech movement on Wall Street.
The Snapchat social-media service is perplexing to nearly anyone born before 1990, myself included. That didn't stop its debut on the New York Stock Exchange from ringing everyone's bell. According to Fox News, Snapchat's (SNAP) wildly successful trading debut, which bested Facebook's (FB), Alibaba's (BABA) and Google's (GOOGL). At the outset of trading Thursday, the stock jumped more than 40 percent to $24 a share, no thanks to Main Street investors who were largely left out of the action. Snapchat surged 44 percent Thursday, closing at $24.48, which valued the social media company's market cap around $28.3 billion.
Not bad for a social media service whose appeal is that its messages, photos and videos only stick around for a little while, and then vanish forever. That places Snapchat in stark contract against services like Facebook and Twitter, which saves everything forever (unless the original poster goes back a deletes a specific post).
Snapchat's hot IPO came on one of the biggest recent days on stock markets, with the FTSE 100 and Dow breaking records. As reported by the Telegraph:
"Animal spirits have taken over," said Neil Wilson, of ETX Capital, as the FTSE 100 charged to a fresh intraday record high of 7,383.05. It closed at a new peak of 7,382.9, up 119.46 points, or 1.64pc, on the day, while the more domestically-focused FTSE 250 also hit an intraday high of 18,983.01.
and
On Wall Street, the Dow Jones crossed the 21,000 mark for the first time ever, as industrial and banking stocks rallied. Clocking in at 25 trading sessions, the rally from 20,000 to 21,000 is the Dow's fastest move between thousand-point milestones since 1999.
Which 2017 IPOs will come next?
According to MarketWatch, possible hot IPOs to watch for in 2017 include:
Spotify: Spotify raised $1 billion in debt financing in March, according to The Wall Street Journal, with conditions that essentially force it to go public in 2017 or pay greater interest on its debt and increased discounts to its investors.
Palantir Technologies Inc.: Palantir sells its software to government agencies, including the Defense Intelligence Agency and other military branches, which could become more relevant under Trump's administration.
Uber: In 2017, the ride-hailing startup is expected to face continuing battles over regulation as it fights with cities over self-driving cars as well as the operation of its driver-based business. Additionally, the company faces lawsuits over whether its drivers are employees or independent contractors, and a widespread ruling that finds the drivers are employees could have major implications for Uber's business model.
Lyft Inc.: In 2016, Lyft was followed by rumors of a possible sale because it had hired investment bank Qatalyst Partners, which helps companies find a buyer. But John Green, Lyft's co-founder, denied pursuing a sale in October and said the company could go public within a few years.
Airbnb Inc.: Like Uber and Lyft, Airbnb is also up against a bevy of regulations. But the company appears to be chipping away at short-term housing regulation city by city, with the most recent example coming in New York City. That will likely continue through 2017, Rao said, at least until the company can develop solid working relationships in major cities.
Dropbox Inc.: It feels like the file-storage company has been forever rumored to go public, but 2017 may finally be the year for Dropbox.
It will be a rollercoaster ride this year. Let's hope the market exuberance doesn't go the way of Snapchat's messages: Poof!
https://alanzeichick.com/wp-content/uploads/snapchat.jpg
359
638
Alan Zeichick
https://alanzeichick.com/wp-content/uploads/alan-zeichick-logo.png
Alan Zeichick
2017-03-04 08:55:45
2018-05-17 12:39:36
Snapchat IPO goes big — let's hope it doesn't go poof!