Having fun with a vintage HP-28S calculator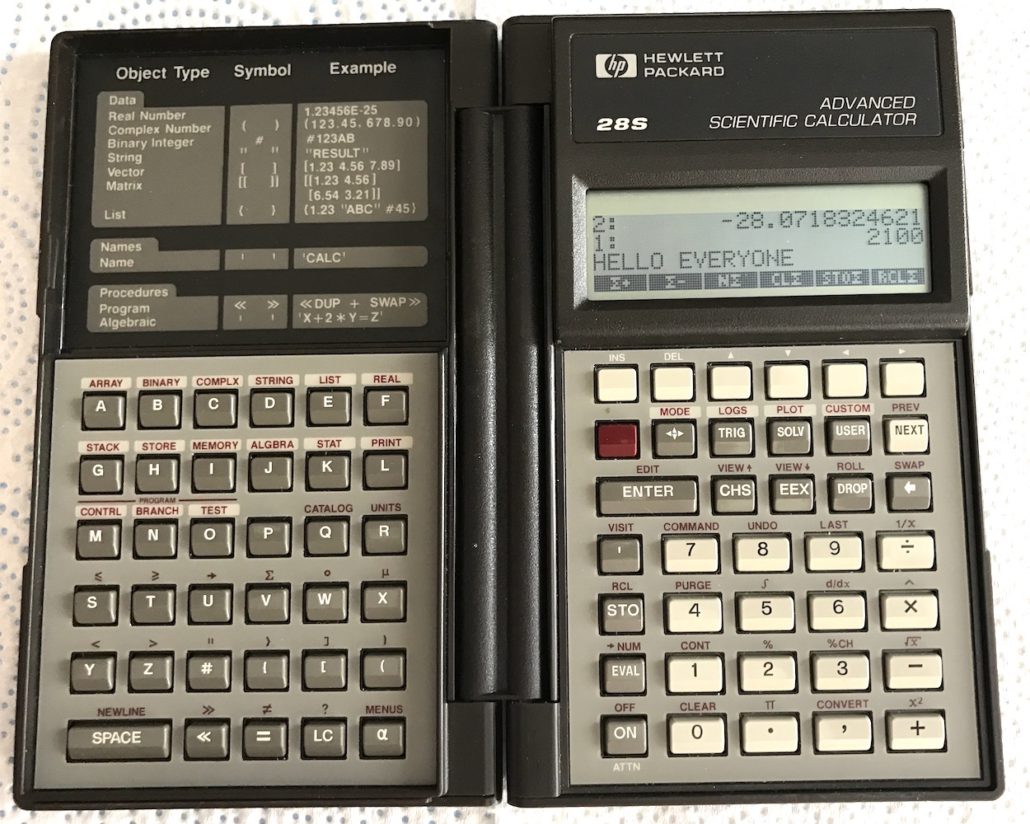 Today's calculation device is this lovely vintage HP-28S "advanced scientific" calculator from the late 1980s.
As a working calculator, it's not my favorite. HP gets points for creativity, but the clamshell design makes for an awkward user experience. I'm finding it frustrating to use because each line on the display is hard to read, there are too many keys, and the visual cues are subtle. It is also hard to pry the clamshell open.
The keys do have a nice clickiness to them. If you are doing basic math, you can fold the alphanumeric left part of the clamshell behind the right part.
Functionally, the HP-28 series is also innovative, as it's where HP first exposed RPL to the user. RPL is Reverse Polish Lisp, a next-generation RPN, or Reverse Polish Notation, designed to handle complex algebraic expressions.
Were I doing that sort of equation-solving or scientific work this afternoon, the HP-28S would be ideal. Today's project, though, is simple arithmetic related to tracking video editing timings. (Last time I did this, I used an HP-32S II, which has a simpler interface and much larger numbers on the one-line display.)
While I don't use it often, the HP-28S is a prized member of my extensive collection of vintage calculators. My goal is to keep using all the devices (well, at least, the ones that still function) because it's more fun than simply looking at them.
https://alanzeichick.com/wp-content/uploads/IMG_2880.jpg
1000
1250
Alan Zeichick
https://alanzeichick.com/wp-content/uploads/alan-zeichick-logo.png
Alan Zeichick
2017-03-19 13:21:15
2017-03-19 13:27:08
Having fun with a vintage HP-28S calculator