Sauron hacks the Internet of Rings as a state sponsor of cyberterrorism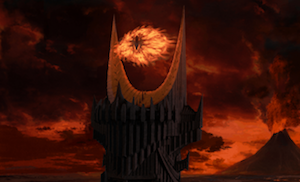 Barcelona, Mobile World Congress 2016—IoT success isn't about device features, like long-life batteries, factory-floor sensors and snazzy designer wristbands. The real power, the real value, of the Internet of Things is in the data being transmitted from devices to remote servers, and from those remote servers back to the devices.
"Is it secret? Is it safe?" Gandalf asks Frodo in the "Lord of the Rings" movies about the seductive One Ring to Rule Them All. He knows that the One Ring is the ultimate IoT wearable: Sure, the wearer is uniquely invisible, but he's also vulnerable because the ring's communications can be tracked and hijacked by the malicious Nazgûl and their nation/state sponsor of terrorism.
Wearables, sensors, batteries, cool apps, great wristbands. Sure, those are necessary for IoT success, but the real trick is to provision reliable, secure and private communications that Black Riders and hordes of nasty Orcs can't intercept. Read all about it in my NetworkWorld column, "We need secure network infrastructure – not shiny rings – to keep data safe."
https://alanzeichick.com/wp-content/uploads/sauron.png
182
300
Alan Zeichick
https://alanzeichick.com/wp-content/uploads/alan-zeichick-logo.png
Alan Zeichick
2016-02-27 10:32:19
2016-06-16 10:34:57
Sauron hacks the Internet of Rings as a state sponsor of cyberterrorism