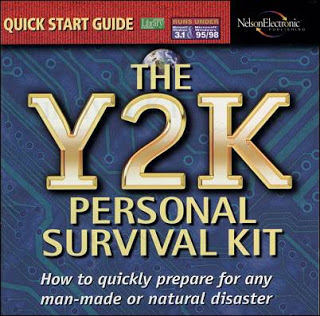 What a year that just past in 2010 – and what a year we can look forward to. Can you believe that the iPad only came out last year? That Oracle hasn't always owned Sun and Java? That Microsoft used to be a powerhouse in consumer technologies? That Google used to be a search engine, and Amazon was an online bookstore?
As we've done since 2001, the editors of SD Times had a good time assembling a collection of year-in-review stories. You can find them here:
Year in Review: Overview
Year in Review: Agile
Year in Review: ALM
Year in Review: Java
Year in Review: Mergers and Acquisitions
Year in Review: Microsoft
Year in Review: Mobile
Year in Review: Open Source
But let's look back even farther. In our Jan. 1, 2001, issue of SD Times, I wrote the introduction to our first "Year in Review" retrospective. Let's see what I wrote about 2000, under the headline, "XML, Dot-Coms, Microsoft Dominate Headlines." (Bear in mind that the introductory sentence was written ten months before the events of Sept. 11, 2001. It was a reference to unfounded Y2K hyperbole. But rereading it today: Yikes!)
The year 2000 came in with a whimper—no crashing airplanes, no massive failures of the power grid—and ended with a peculiar type of bang, as the U.S. election woes turned a few hundred Floridians and a few thousand lawyers into the de facto electors for the next Leader of the Free World.
Outside of the Tallahassee, Fla., and Washington, D.C., courtrooms, life was tamer, but only slightly. For software developers, the world was turned upside down by these top stories of the year:
XML Rules. The Extensible Markup Language came into its own in 2000. Forget about HTML and Web browsers: The name of the game is business-to-business commerce and platform-independent information exchange using XML schemas. Three years ago, everything had to be Web-enabled; now, it must be able to speak XML.
Bye, Bye, Billions. The second-quarter dot-com crash, coming after the Nasdaq stock exchange passed 5,000 in March, did more than turn a few billionaires into millionaires, and drive a few poorly conceived Web sites out of business. It also made it harder for new ideas to get funding.
The plummeting of share prices and the delay of IPOs put stock options under water, making it hard for many companies to attract technical talent. Profits, rather than technology, re-emerged as the best metric for valuing investments. The mood by the end of 2000 was gloomy on Wall Street and in Silicon Valley.
Whither Microsoft? Well, it's back to lawyers. The antitrust trial ended with judgments against Microsoft Corp., and with a decision to break up the world's largest software company. But as appeals began their lengthy process, there was no certainty as to what changes would occur in Microsoft's business practices.
Many would agree that Microsoft's influence appeared to have diminished by the end of the year, but the company still wields incredible market and technological influence — and has massive cash reserves. Although wounded and distracted, Microsoft is still king of the hill.
Nothing But .NET. As if to underscore that point, Microsoft unveiled its .NET initiative, designed to support true distributed computing over the Internet, enabled by its COM+ distributed component model and middleware, its XML-based BizTalk server and a new programming language, C#.
The first parts of the .NET system were released in the fourth quarter, along with betas of a few development tools. The importance of .NET, and whether it will allow Microsoft to dominate the business-to-business Internet, remains to be seen.
Wireless: The Next XML. Software tools vendors and enterprises alike went gaga over the Wireless Access Protocol, seeing the mobile-commerce market as the next great opportunity, and many application- server vendors repositioned their companies to bet the business on WAP.
Early reports from customers about poor quality of service, however, led some analysts to wonder if this huge untamed beast is actually a white elephant.
On the other hand, Bluetooth, a short-range wireless specification for embedded devices, achieved widespread industry support.
UML Is the Best Model. This past year saw a proliferation of new Unified Modeling Language-based design, analysis and coding tools. A drive to formal modeling has been a long time coming, but given the complexity of modern software engineering, the increased cost of hiring developers and the new business imperatives for delivering software on time, there's no doubt that modeling is here to stay.
Z Trek Copyright (c) Alan Zeichick
https://alanzeichick.com/wp-content/uploads/y2k.jpg
316
320
Alan Zeichick
https://alanzeichick.com/wp-content/uploads/alan-zeichick-logo.png
Alan Zeichick
2011-01-03 16:21:00
2013-09-26 05:42:01
2010 and 2000 in Review: XML, Dot-Coms, Microsoft Dominate Headlines