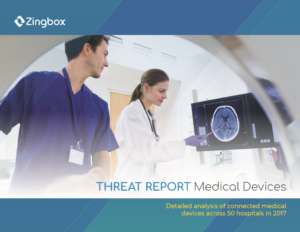 You can't expect end users to protect their Internet of Things devices from hacks or breaches. They can't. They won't. Security must be baked in. Security must be totally automatic. And security shouldn't allow end users to mess anything up, especially if the device has some sort of Web browser.
Case in point: Medical devices with some sort of network connection, and thus qualify as IoT. In some cases, those connections might be very busy, connecting to a cloud service to report back telemetry and diagnostics, with the ability for a doctor to adjust functionality. In other cases, the connections might be quiet, used only for firmware updates. In either case, though, any connection might lead to a vulnerability.
According to the Annual Threat Report: Connected Medical Devices, from Zingbox, the most common IoT devices are infusion pumps, followed by imaging systems. Despite their #2 status, the study says that those imaging systems have the most security issues:
They account for 51% of all security issues across tens of thousands devices included in this study. Several characteristics of imaging systems attribute to it being the most risky device in an organization's inventory. Imaging systems are often designed on commercial-off-the-shelf (COTS) OS, they are expected to have long lifespan (15-20 years), very expensive to replace, and often outlive the service agreement from the vendors as well as the COTS provider.
This isn't good. For all devices, the study says that, "Most notably, user practice issues make up 41% of all security issues. The user practice issues consist of rogue applications and browser usage including risky internet sites." In addition, Zingbox says, "Unfortunately, outdated OS/SW (representing 33% of security issues) is the reality of connected medical devices. Legacy OS, obsolete applications, and unpatched firmware makes up one-third of all security issues."
Read more in my essay, "IoT Security Lapses: Go Ahead, Blame The User."
http://alanzeichick.com/wp-content/uploads/Threat-Report-Cover-2018-300x232.png
232
300
Alan Zeichick
http://alanzeichick.com/wp-content/uploads/alan-zeichick-logo.png
Alan Zeichick
2018-03-13 14:38:18
2018-03-13 14:38:18
Users mess up security on browser-equipped IoT devices