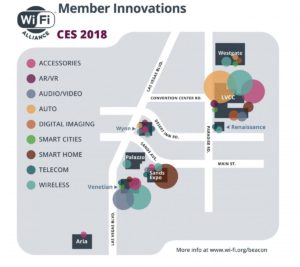 Wireless Ethernet connections aren't necessarily secure. The authentication methods used to permit access between a device and a wireless router aren't very strong. The encryption methods used to handle that authentication, and then the data traffic after authorization, aren't very strong. The rules that enforce the use of authorization and encryption aren't always enabled, especially with public hotspots like in hotel, airports and coffee shops; the authentication is handled by a web browser application, not the Wi-Fi protocols embedded in a local router.
Helping to solve those problems will be WPA3, an update to decades-old wireless security protocols. Announced by the Wi-Fi Alliance at CES in January 2018, the new standard is said to:
Four new capabilities for personal and enterprise Wi-Fi networks will emerge in 2018 as part of Wi-Fi CERTIFIED WPA3™. Two of the features will deliver robust protections even when users choose passwords that fall short of typical complexity recommendations, and will simplify the process of configuring security for devices that have limited or no display interface. Another feature will strengthen user privacy in open networks through individualized data encryption. Finally, a 192-bit security suite, aligned with the Commercial National Security Algorithm (CNSA) Suite from the Committee on National Security Systems, will further protect Wi-Fi networks with higher security requirements such as government, defense, and industrial.
This is all good news. According to Zack Whittaker writing for ZDNet,
One of the key improvements in WPA3 will aim to solve a common security problem: open Wi-Fi networks. Seen in coffee shops and airports, open Wi-Fi networks are convenient but unencrypted, allowing anyone on the same network to intercept data sent from other devices.

WPA3 employs individualized data encryption, which scramble the connection between each device on the network and the router, ensuring secrets are kept safe and sites that you visit haven't been manipulated.

Another key improvement in WPA3 will protect against brute-force dictionary attacks, making it tougher for attackers near your Wi-Fi network to guess a list of possible passwords.

The new wireless security protocol will also block an attacker after too many failed password guesses.
Read more in my article, "Wireless Wi-Fi Networks To Become More Secure With WPA3
http://alanzeichick.com/wp-content/uploads/ces2018.jpg
1068
1200
Alan Zeichick
http://alanzeichick.com/wp-content/uploads/alan-zeichick-logo.png
Alan Zeichick
2018-01-10 10:04:20
2018-01-16 10:07:50
Let's applaud the new WiFi security standard, WPA3