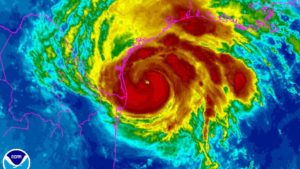 The water is rising up over your desktops, your servers, and your data center. You'd better hope that the disaster recovery plans included the word "offsite" – and that the backup IT site wasn't another local business that's also destroyed by the hurricane, the flood, the tornado, the fire, or the earthquake.
Disasters are real, as August's Hurricane Harvey and immense floods in Southeast Asia have taught us all. With tens of thousands of people displaced, it's hard to rebuild a business. Even with a smaller disaster, like a power outage that lasts a couple of days, the business impact can be tremendous.
I once worked for a company in New York that was hit by a blizzard that snapped the power and telephone lines to the office building. Down went the PBX, down went the phone system and the email servers. Remote workers (I was in in California) were massively impaired. Worse, incoming phone calls simply rang and rang; incoming email messages bounced back to the sender.
With that storm, electricity was gone for more than a week, and broadband took an additional time to be restored. You'd better believe our first order of business, once we began the recovery phase, was to move our internal Microsoft Exchange Server to a colocation facility with redundant T1 lines, and move our internal PBX to a hosted solution from the phone company. We didn't like the cost, but we simply couldn't afford to be shut down again the next time a storm struck.
These days, the answer lies within the cloud, either for primary data center operations, or for the source of a backup. (Forget trying to salvage anything from a submerged server rack or storage system.)
We aren't prepared. In a February 2017 study conducted by the Disaster Recovery Journal and Forrester Research, "The State Of Disaster Recovery Preparedness 2017," only 18% of disaster recovery decision makers said they were "very prepared" to recover their data center in the event of a site failure or disaster event. Another 37% were prepared, 34% were somewhat prepared, and 11% not prepared at all.
That's not good enough if you're in Houston or Bangladesh or even New York during a blizzard. And that's clear even among the survey respondents, 43% of whom said there was a business requirement to stay online and competitive 24×7.
Read more in my article, "Before the Next Natural Disaster Strikes, Look to the Cloud."
http://alanzeichick.com/wp-content/uploads/harvey.jpg
534
950
Alan Zeichick
http://alanzeichick.com/wp-content/uploads/alan-zeichick-logo.png
Alan Zeichick
2017-09-04 08:24:56
2017-09-04 08:24:56
When natural disasters strike, the cloud can aid recovery