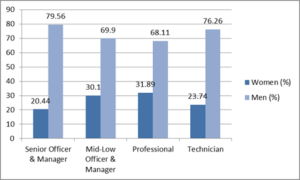 In the United States, Sunday, May 14, is Mother's Day. (Mothering Sunday was March 27 this year in the United Kingdom.) This is a good time to reflect on the status of women of all marital status and family situations in information technology. The results continue to disappoint.
According to the Unites States Department of Labor, 57.2% of all women participate in the labor force in the United States. 46.9% of the people employed in all occupations are women. So far, so good. Yet when it comes to information technology, women lag far, far behind. Based on 2014 stats:
Web developers – 35.2% women
Computer systems analysts – 34.2% women
Database administrators – 28.0%
Computer and information systems managers – 26.7%
Computer support specialists – 26.6%
Computer programmers – 21.4%
Software developers, applications and systems software – 19.8%
Network and computer systems administrators – 19.1%
Information security analysts – 18.1%
Computer network architects – 12.4%
The job area with the highest projected growth rate over the next few years will be information security analysts, says Labor. A question is, will women continue to be underrepresented in this high-paying, fast-growing field? Or will the demand for analysts provide new opportunities for women to enter into the security profession? Impossible to say, really.
The U.S. Equal Employment Opportunity Commission shows that the biggest high tech companies lag behind in diversity. That's something that anyone working in Silicon Valley can sense intuitively, in large part due to the bro culture (and brogrammer culture) there.
Read more about this in my essay for Zonic News, "Women in Tech – An Ongoing Diversity Challenge."
http://alanzeichick.com/wp-content/uploads/image008.png
289
481
Alan Zeichick
http://alanzeichick.com/wp-content/uploads/alan-zeichick-logo.png
Alan Zeichick
2017-05-12 17:05:35
2017-05-12 17:05:35
The ongoing challenge for women in high-tech companies