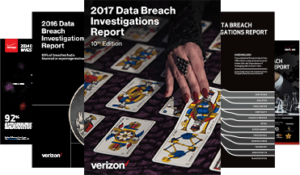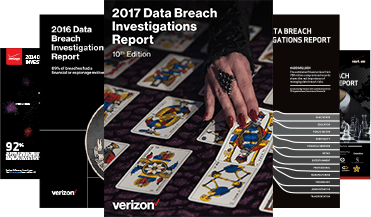 Did you know that last year, 75% of data breaches were perpetrated by outsiders, and fully 25% involved internal actors? Did you know that 18% were conducted by state-affiliated actors, and 51% involved organized criminal groups?
That's according to the newly release 2017 Data Breach Investigations Report from Verizon. It's the 10th edition of the DBIR, and as always, it's fascinating – and frightening at the same time.
The most successful tactic, if you want to call it that, used by hackers: stolen or weak (i.e., easily guessed) passwords. They were were used by 81% of breaches. The report says that 62% of breaches featured hacking of some sort, and 51% involved malware.
More disturbing is that fully 66% of malware was installed by malicious email attachments. This means we're doing a poor job of training our employees not to click links and open documents. We teach, we train, we test, we yell, we scream, and workers open documents anyway. Sigh. According to the report,
People are still falling for phishing—yes still. This year's DBIR found that around 1 in 14 users were tricked into following a link or opening an attachment — and a quarter of those went on to be duped more than once. Where phishing successfully opened the door, malware was then typically put to work to capture and export data—or take control of systems.
There is a wealth of information in the 2017 DBIR, covering everything from cyber-espionage to the dangers caused by failing to keep up with patches, fixes, and updates. There's a major section on ransomware, which has grown tremendously in the past year. There are also industry-specific breakouts, covering healthcare, finance, and so-on. It's a big report, but worth reading. And sharing.
Learn more by reading my latest for Zonic News, "Verizon Describes 2016'S Hackers — And Their Top Tactics."
http://alanzeichick.com/wp-content/uploads/cut-reports.png
217
371
Alan Zeichick
http://alanzeichick.com/wp-content/uploads/alan-zeichick-logo.png
Alan Zeichick
2017-04-27 18:53:21
2017-04-27 18:53:21
Last year's top hacker tactics may surprise you