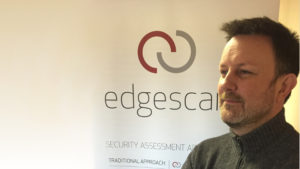 "If you give your security team the work they hate to do day in and day out, you won't be able to retain that team." Eoin Keary should know. As founder, director and CTO of edgescan, a fast-growing managed security service provider (MSSP), his company frees up enterprise security teams to focus on the more strategic, more interesting, more business-critical aspects of InfoSec while his team deals with the stuff they know and do best; deal with the monotony of full-stack vulnerability management.
It's a perfect match, Keary says. By using an MSSP, customers can focus on business-critical issues, save money, have better security—and not have to replace expensive, highly trained employees who quit after a few months out of boredom. "We are experts in vulnerability management, have built the technology and can deliver very efficiently."
BCC Risk Advisory Ltd, edgescan's parent company, based in Dublin, Ireland, was formed in 2011 with "me and a laptop," explains Keary. He expects his company to end the 2016 fiscal year at seven figure revenues and a growth trajectory of circa 400% compared to 2015. Its secret cyberweapon is a cloud-based SaaS called edgescan. edgescan detects security weaknesses across the customer's full stack of technology assets, from servers to networks, from websites to apps to mobile devices. It also provides continuous asset profiling and virtual patching coupled with expert support.
edgescan constantly assesses clients' systems on a continuous basis. "We have a lot of intelligence and automation in the platform to determine what needs to be addressed," explains Keary.
There's a lot more to my interview with Eoin Keary — you can read the whole story, "Apparently We Love To Do What Companies Hate. Lucky You!" published in ITSP Magazine.
http://alanzeichick.com/wp-content/uploads/Eoin-Keary-Edgescan_web.jpg
350
620
Alan Zeichick
http://alanzeichick.com/wp-content/uploads/alan-zeichick-logo.png
Alan Zeichick
2016-12-22 14:48:57
2017-02-23 14:53:01
Edgescan loves to do what most people hate. Lucky you!